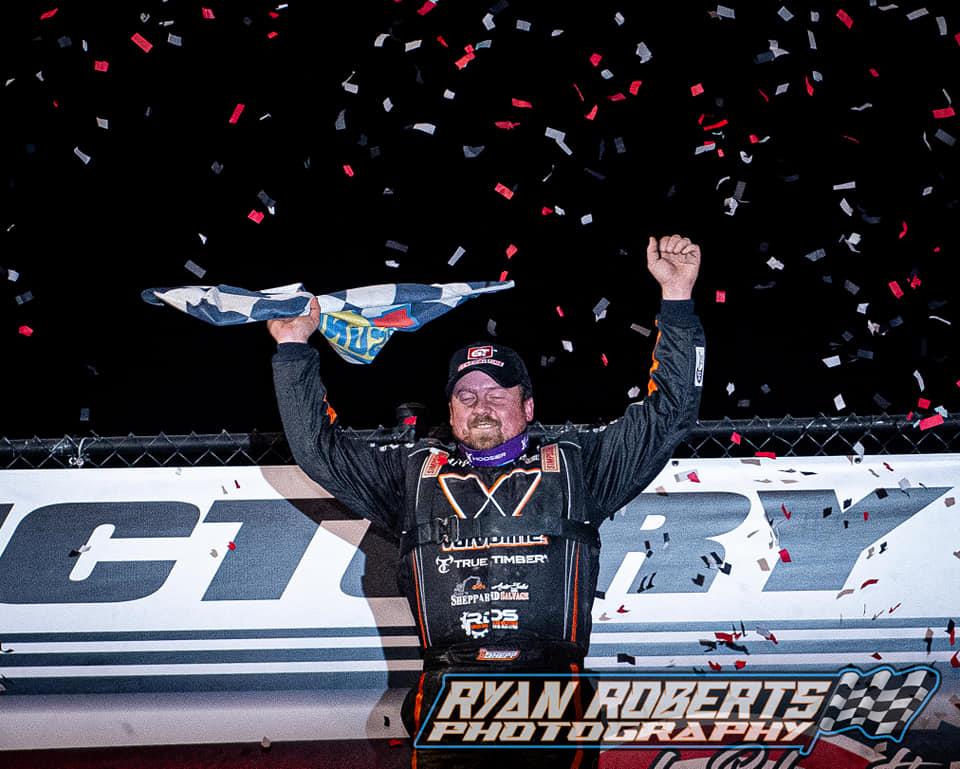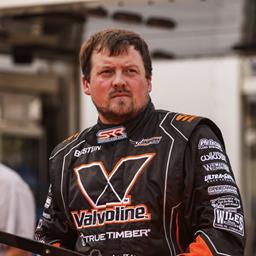 10/22/2023
Brandon Sheppard
---
Brandon Sheppard earns fifth DTWC, pockets $100,000 at Eldora
Brandon Sheppard overcame brake issues as well as an empty fuel tank to claim his record-tying fifth Dirt Track World Championship on Sunday evening at Eldora Speedway aboard the Valvoline / TrueTimber No. B5 Rumley Engineering / WYLD GEAR / Riggs Drilling Solutions / Bilstein / Longhorn Chassis / Cornett Racing Engine Super Late Model.
In a race that saw an event record eight different leaders, Sheppard was the final driver to take the point, and despite running out of gas on the last lap he was able to survive for the victory. With his fifth triumph in the crown jewel, he tied the late Freddy Smith as the winningest driver in the history of the event.
"It's unbelievable. I watched (Freddy Smith) a lot growing up," Sheppard said in Victory Lane. "All the competition these days, it's really hard to win these things. I don't know. I guess it's something about taking a little bit of money out of Carl Short's pocket, (the DTWC founder and promoter). For some reason, it fits me really, whether it's Portsmouth (Raceway Park in Ohio) or here, or wherever it is. As I said, everything fell our way tonight."
Early in the 100-lap finale Sheppard had to pit twice with brake issues. The first pit stop allowed the team to repair the left rear brake line that had come loose, and on the second stop his team was able to bleed the air out of the line.
"Luckily (the caution) came back really quick," Sheppard said. "We were able to come in and get it bled out, and it was perfect after that. After that, I went pretty hard at the very beginning to try and get some distance just in case the leaders were to come around so I didn't get lapped.
"Right around halfway I was good around the middle-bottom. I felt really good there. Also, about midway through the race, I found the line that was pretty good for me in the middle of one and two. … Once I started seeing some of them guys dropping out, we were picking a few of them off, and it was time to turn it up."
Sheppard ran as low as 23rd in the century-grind of a main event before mounting a charge through the field.
"Every time I've drove this thing, it's been good all year," Sheppard said. "Can't thank Longhorn and Bilstein enough for building a phenomenal race car. All the parts and pieces on this thing held up on that track. It was phenomenal.
"I knew we had a good car right off the bat this weekend. It was a matter of stuff falling our way. As I said, every time I drive Kevin Rumley's car, it's been good for me. It just hasn't fallen my way. At the World, we had a really good car and got into a wreck.
"When we were running out of the fuel … I was hoping for the best," Sheppard added. "It was pretty crazy. A pretty crazy end to the night."
Climbing back behind the wheel of the Longhorn Chassis Rumley Engineering developmental car, Brandon Sheppard joined a field of 62 Lucas Oil Late Model Dirt Series (LOLMDS) entries at Eldora Speedway (Rossburg, Ohio) for the 43rd running of the General Tire Dirt Track World Championship presented by ARP.
With the originally slated two-day show condensed by persistent rain throughout the weekend, Sheppard followed up the fourth-fastest qualifying effort in his group on Saturday with a third-place finish in his heat race on Sunday.
Starting the $100,000-to-win Dirt Track World Championship in 14th on Sunday night, Brandon made an early visit to the infield hot pit on the seventh circuit after his left-rear brake line jarred loose.
After returning to the pits a few laps later to tweak his brake line, Sheppard made up massive ground on a 33-lap green flag run where he went from seventh into the lead.
Despite running out of fuel on the final lap, Brandon limped to his fifth career DTWC and his sixth victory of the 2023 season. He bagged the $100,000 payday 0.084 seconds ahead of Hudson O'Neal with Devin Moran, Tim McCreadie, and Dale McDowell rounding out the Top-5.
Full results from the events are available at www.LucasDirt.com.
Sheppard will now put a rap the 2023 World of Outlaws (WoO) Case Late Model Series on Nov. 1 – 4 at The Dirt Track at Charlotte (Concord, N.C.). The four-day affair includes qualifying on Wednesday followed by $15,000-to-win programs on both Thursday and Friday, capped by a $25,000-to-win finale on Saturday.
Brandon currently sits third in the latest WoO standings.
---
Article Credit: Ryan Roberts photo
Article Media
Back to News